Hi my name is Sarah...
...A few years ago I started up a resin art business – Kandy Krafts – as a hobby on the side of working as a Teacher. I really enjoyed it and loved the creative freedom I had with it. It was also a lovely and relaxing output for me and allowed my brain to "rest" as well! After a few months of starting, I fell pregnant with my first child and read that it's not the best to deal with resin whilst pregnant so I decided to stop. Once I had my daughter, I decided to go back to resin art (I was really missing it) and as I didn't go back to teaching I decided this was a great business to pursue as I enjoyed it so much but for some reason my skin had become so much more sensitive. Even whilst wearing all the required PPE, I was still suffering. It got so bad that my skin looked like it was almost burned. Painful, itchy and raw. It was mainly on my arms, face, neck and chest.
This made me so paranoid to go out and to even just look in the mirror. It looked horrible.
I did so much research, hoping that it wasn't the resin but I later found out that it was. Even the fumes of the resin were harmful. So, after a lot of deliberation, I decided to close Kandy Krafts. I was at such a loss of what to do.
My husband had to chuck, literally, everything away. Had the windows open for 24 hours, thankfully it was the summer, to get all the excess fumes out…
I needed something else to focus on. I enjoyed being creative and thought of other ways I could be creative but nothing was springing to mind.
Anyway, After a few weeks, my skin was getting even more irritable. Normal store bought shop soaps were doing nothing for my skin. I even tried buying over the counter medicinal soaps and that did nothing. So I decided to look online on how to make my own soaps, at this point I was desperate. I had a look online and found a few recipes, but I didn't know where to start.
That's when I looked on Youtube and found sooo many soap makers. One in particular caught my eye and even her banter and chat was awesome to listen to. I watched everything she did. I did my own research and my own testing and making and finally made my own soap!
My first soap was an absolute disaster.
Here it is...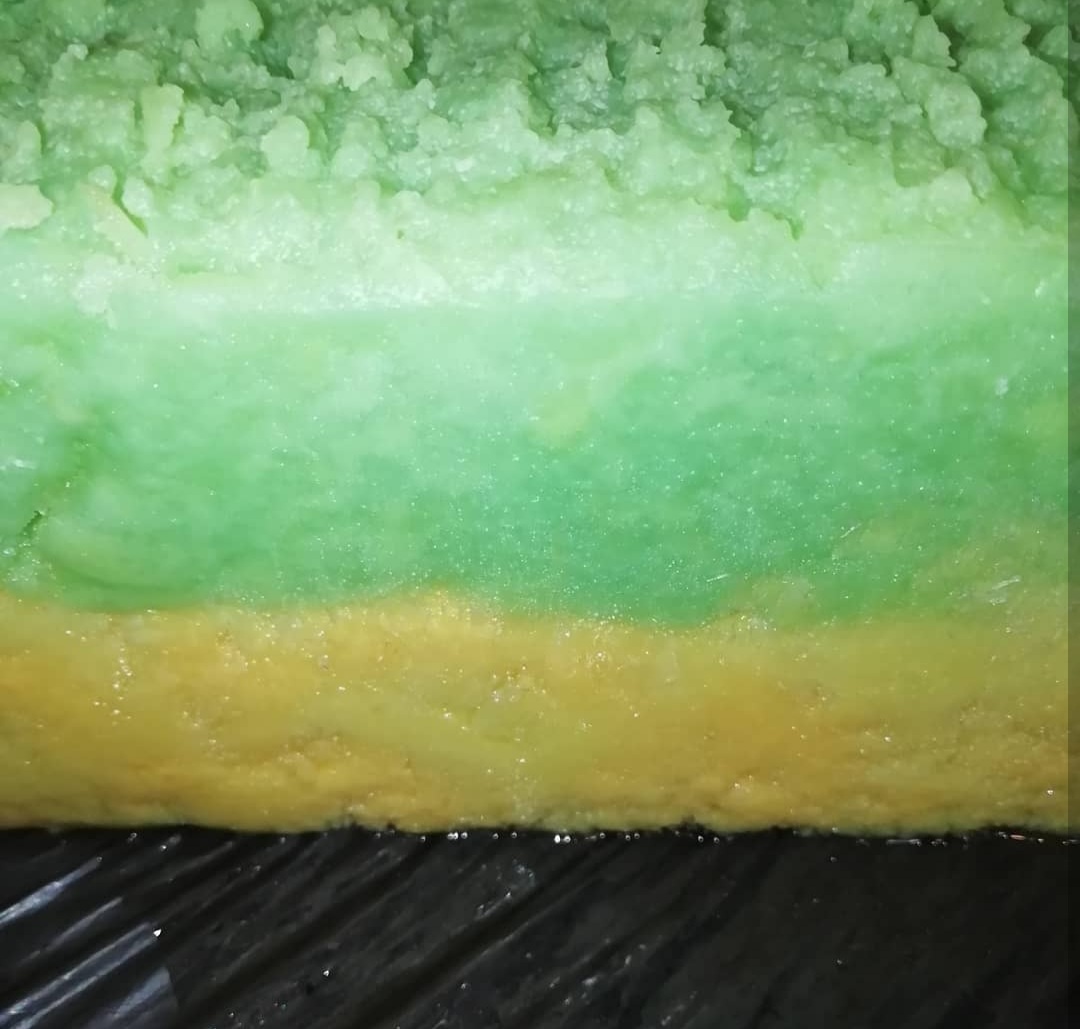 It looks like Lemon Lime Ice. Again, this was just the testing phase. I wasn't going to use this one. I then made another soap, which was my very first What a Melon! Soap. It came out fantastic.



I allowed it to cure for 4 to 6 weeks and after that. I started using my soap and my skin started to calm down.
I was so happy that I had managed to sort my own skin out. I knew exactly what had gone into the soaps, I knew there were no chemicals in it to irritate my skin.
After a good year, after a lot of testing and practising, getting certified and insured, I opened up Kandy Krafts Soapery.
I decided to keep the "Kandy Krafts" part because if it wasn't for beginning Kandy Krafts then I wouldn't have created Kandy Krafts Soapery… so it's a little homage to those humble beginnings.
I know, finding cosmetics for your skin that you will feel comfortable in using and making sure that your skin is looked after, is hard to find but rest assured, my soaps are made with the utmost care and love and my main mission is to ensure that you are buying with confidence and to make your self-care routine an intentional and essential part of you.

Can't wait to help you on your journey of self-love

Love Sarah x

Get in touch with me to know more about my products.